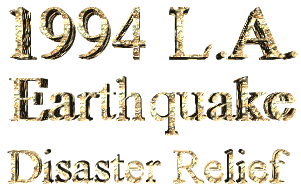 "L.A. Earthquake Disaster Relief" was a two month effort from North Texas. Lars Wyka, producer/director, instantly formed a relief effort encompassing the help and assistance of actors, studios, local/global merchants, religious organizations, television, radio, and community individuals.

Within three days, Lars with the assistance of American Airlines and Gifts In Kind, made an emergency shipment of one thousand pounds of supplies via air to his west coast coordinator, Diane Wagner. Included in this airlift were a case of new little teddy bears, for the children in the disaster tent cities.

It gave them a friend to hold onto while the after shocks continued. On day two, MNX Trucking donated a fifty-three foot trailer and crew in which were placed the received donations. In all over eighty thousand pounds of water, clothing, and food were delivered to the earthquake victims.
MTM Studios, in Studio City, California, provided an area on their studio lot where the distribution took place. Many actors helped out, both in North Texas and Los Angeles.

Benny "The Jet" Urquidez was one of the many groups which came to pick up supplies for distribution to the people still in need of aid.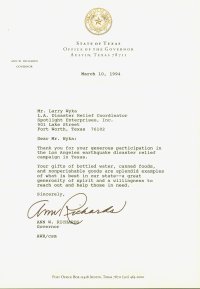 In North Texas, "Walker, Texas Ranger" star Chuck Norris, made an on-camera donation which in turn was doubled by Ozarka Water. American Airlines, Hilton Hotels, MNX Trucking, Ozarka Water, The Studios at Las Colinas, and many more all came together to help. Lars received a special letter of appreciation from Texas Governor Ann Richards.
Thanks goes out to all who made the relief effort possible!

Photo Credits
Heartfall Productions ©1998
All Rights Reserved.