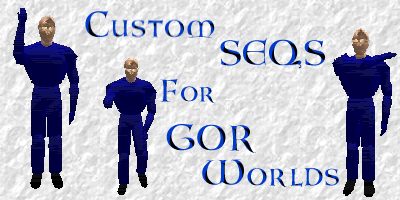 These Custom Gesture Seqs are designed specifically for the Nude Avatar which you can obtain from Aylla.
Full Erection

Full Erection

While standing you can now have your avatar achieve a full erection. The male unit is broken into sections for a realistic bend and inflation look.

Kneel

Kneel

This Kneel Seq allows you to extend the reality of your nude slave avatar.

Hump

Hump

For the times that you find it appropriate! This Gesture Seq will allow you to stand behind and Hump away.

Turn&Scratch

Turn&Scratch

So it's user can view the nude's front. This Seq turns the avatar to face its user while growing an erection and giving it's self a subtle scratch.

Get Your SEQ's today! Click
underlined links.

E-Mail if you have any questions

PRICING

Complete Set - was $30.00 Now Only $15.00 !

U.S. Funds

Don't be the only GOR World not to have these custom GOR SEQS!
Get Yours Today!
Copyright & Licensing
All SEQ's and Graphics on this page are Copyright ©2000 Heartfall Productions or their creator's
License is in perpetuity for use in one world owned or used by the person ordering.
Images and Seqs on this page are intended for educational purposes.
* Free Backdrops * World Hosting * Free Avatars,Textures & More
Maintained by our Webmaster

Page Designed & Hosted by
Heartfall Productions Design Studio
Copyright ©2000 - 2001
all rights reserved.