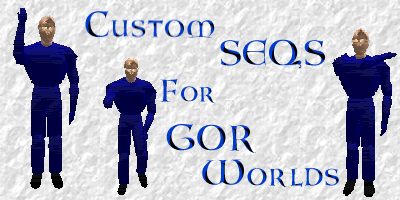 Now you can customize your GOR Worlds even more! These SEQ's allow for a more realistic expression of your GOR avatars.
GOR APPROVAL

APPROVAL

Now you can give the official GOR APPROVAL action when appropriate.

TAL

TAL

The GOR way of greeting another 'TAL'. Now you can greet one another with the proper SEQ.

GOR LAUGH

LAUGH

For the time that you find the conversation funny. This SEQ is fashioned after the LAUGH description in the GOR books. Bust your guts now!

GOR LAUGH

2nd LAUGH

For the conversations you find funny here is a second form of the LAUGH SEQ. This second laugh hits the top of the knees. This SEQ is fashioned after the LAUGH description in the GOR books also. Bust your guts even more!

LESS FUNNY

LESS LAUGH

OK, so maybe it wasn't that funny... You can now use this slap for those less funny knee slapping times. *S*

More Gor Seqs
Click Here

Seqs for Gor Nude Male
Click Here

Get Your SEQ's today! Click
underlined links.

E-Mail if you have any questions

PRICING

Set of All 5 - was $30.00 Now Only $15.00 !

U.S. Funds

Don't be the only GOR World not to have these custom GOR SEQS!
Get Yours Today!
Copyright & Licensing
All SEQ's and Graphics on this page are Copyright ©2000 Heartfall Productions or their creator's
License is in perpetuity for use in one world owned or used by the person ordering.
* Free Backdrops * Free Avatars,Textures & More
Maintained by our Webmaster

Page Designed & Hosted by
Heartfall Productions Design Studio
Copyright ©2000 - 2002
all rights reserved.