No Heroics, Just Survival... in association with Heartfall Productions presents "Escape with Ease" Featuring 17 detailed Grappling Maneuvers. This tape is a must for Law Enforcement personel, Martial Artists, and anyone else interested in Defense! Add this tape to your defense library today.
Each grappling maneuver is demonstrated while detailed narration explains easy how to instructions. You have time to review and learn, then replay at any point,

over and over again. This is a tape you will want to refer to often.
These techniques have never before been shown anywhere! Mike Goldberg designed them after years of study in Defense and the Martial Arts. See Mike's biography for more information on his teaching and educational background. Also, take a look at the biography of Producer/Director, Lars Wyka. These biographies will give you an idea of the quality product you are going to receive, please check the biography links below.
Recorded in Digital Stereo Sound. Running time 60 minutes. High Quality VHS reproduction. Great Detailed Close-Ups. AVAILABLE NOW!
Click Here For More Information & Video Clips
ORDER
---
World Class Self Defense


VIDEOS


by Jiu Joe Jitsu
---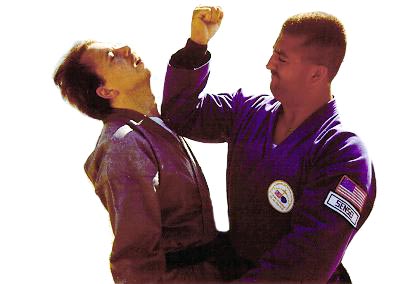 ***These tapes will provide you with a complete video training instruction program. Each video shows a step by step demonstration from side views and angles, with detailed explanations, showing many aspects of self defense***


Volume #1 Learn step by step basic jujitsu pressure points, counters vs chokes, grabs, various holds, defenses and countermeasures from a variety of attacks so that you can walk the streets safe at night. Includes many submission holds, Awesome Self Defense survival techniques.(35 min)

Volume #2 Intermediate and Advanced vital pressure point holds, submissions and escapes. Defenses against stick and knife attacks, take downs and finishing holds and many other useful highly effective combat jujitsu grappling techniques. See how to incorporate judo, jujitsu, & karate effectively to quickly overcome the attacker.(47 min.)
Volume #3 Contains rare footage of Jiu Jitsu Hall of Fame Professor in Self Defense Seminar. (60 min.)

Volume #4 Filipino Stick, Knife and Hand to Hand Combat against various violent armed and unarmed attacks. Learn step by step as shown and clearly displayed on all videos, how to use your hands or a stick to disarm and incapacitate a violent Knife or Stick armed attacker(s) in seconds. Includes warm-ups, stances, blocks and more.(73 min.)

Volume #5 Pressure vital points & come a long submission defense holds.learn how to completely control and overcome an attacker in seconds. These exclusive self defense techniques are easy to learn and understand, in minutes you will obtain many essential tools to easily escape from an attackers hold. See the secrets most instructors wont teach students. Learn From the Best!!!(76 min.)
Volume #6 Private Seminar Part II- Jujitsu Hall of Fame Professor displays an awesome array of teachings and concepts. (40 min.)

Volume #7 Blocks, Counterattacks, and Strikes. Learn 1-2-3 "touch and go" quick to the point defense techniques and instruction against a variety of violent attackers. Learn also how to effectively use every day items such as keys, mace, high heel shoes, books, and sticks to defend yourself should you be assaulted. This video as others available, is a must have for the commuter, the housewife, student, or child attending school; an outstanding educational safety video.(78 min.)
Click Here For More Information on Jiu Joe Jitsu Videos
---

Back to Heartfall Main Page
Maintained by ourWebmaster
Heartfall Productions ©1996-1999
All Rights Reserved.